Bespoke Jewellery Engraving
At Stephen Einhorn, we understand that jewellery holds more than just material value; it carries emotional significance, celebrates milestones, captures cherished memories and makes you feel fabulous. It is a way to show your very own unique style. Our expert craftspeople can engrave your jewellery pieces in whatever style you want: infusing them with something unique that resonates with your individuality. A message or a tattoo: the choice is yours.
With superb attention to detail, our master jewellery engravers add extra layers to your jewellery, meticulously etching intricate patterns, meaningful symbols, or personalised messages onto each design. Whether it's a wedding ring engraved with your partner's initials, a date, or a message of love; a pendant engraved with a special message or design; or any piece of jewellery engraved with a heartfelt phrase, our bespoke engraving ensures your jewellery will be cherished for a long time.
Embark on a collaborative journey with us as you engage with our passionate team of designers and expert craftspeople who will work closely with you to create a design that captures your personal vision. From the initial concept to the final execution, we pride ourselves on delivering exceptional craftsmanship, blending traditional techniques with innovative new approaches to create individualised engravable jewellery.
Bespoke Engraved Ring
Bespoke ring hand made in silver with distinctive Arabic engraving on the outside and the translation engraved on the inside. We can engrave different symbols and different scripts for you. Make your ring really special by adding something very personal to you.
Engraved Pendant Necklace
This is our rose gold Silk pendant. We can copy a fingerprint as an engraving onto any of our pieces as long as there is a large enough of a flat surface. The fingerprint will not get you through the highest security, but it will be as accurate as we can possibly make it. You need to give us a good print and we will do the rest.
Custom Engraved Oval Signet Ring
A yellow gold Oval signet ring showing some 3D engraving with an initial. This ring has two diamonds set into the sides. We can also engrave a special message around the inside of the ring.
Other techniques
Our gemstone setting is an art form. It takes real skill and many years to perfect your craft. With meticulous precision, our stone setters carefully set each stone, showcasing its brilliance and enhancing its natural beauty. Whether it's a sparkling diamond, a vivid sapphire, or a mesmerising emerald our stone setting technique ensures that every stone radiates its own beauty.
Celebrate your heritage and family legacy with our impeccable crest engraving. We can carefully reproduce your unique family crest, coat of arms, or emblem onto a wide range of jewellery pieces, no matter how complex. Each creation is a treasured heirloom, embodying your own heritage and connecting generations through exquisite design and meticulous craftsmanship.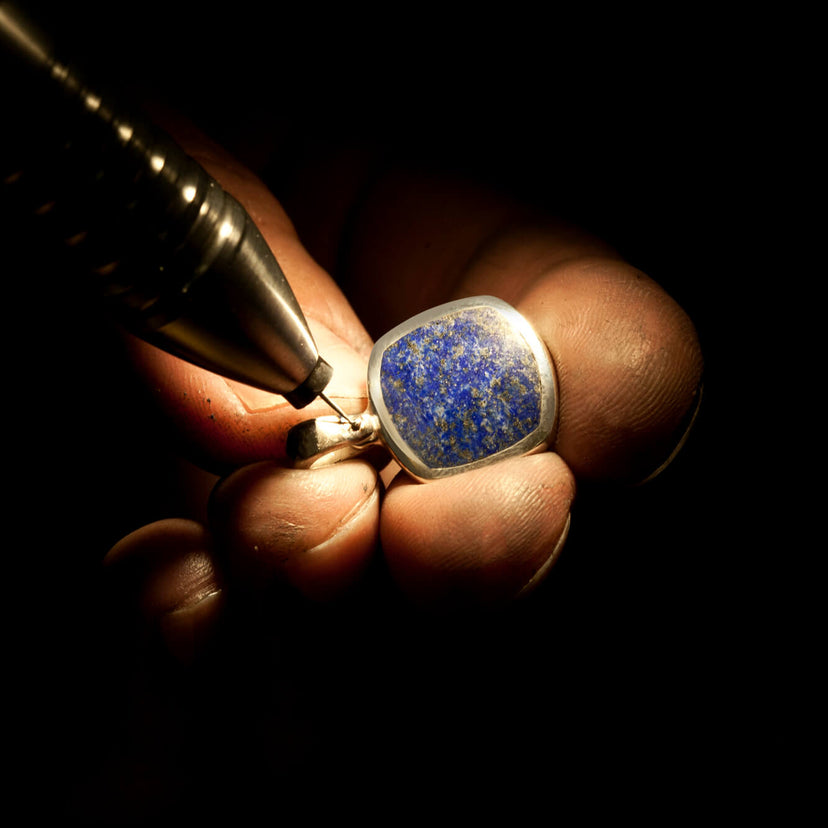 Inlaid jewellery is that extra layer of luxury that the discerning customer will want. Using historical jewellery techniques we can inlay gold, platinum or silver into stone, wood or enamel. We can even inlay yellow gold into white for a very subtle effect. Have your initials a family crest or a design you have created yourself, inlaid into one of our signet rings. The exciting fusion of materials in our inlaid pieces sets them apart as truly luxurious and exceptional works of wearable art.
About bespoke jewellery engraving
The bespoke jewellery engraving service at Stephen Einhorn is a way to really make a piece of jewellery your own. We offer an array of engraving styles to choose from: delicate engraved patterns that exude elegance, precise laser engravings that ensure intricate detail, or the classic charm of monogrammed initials. With our extensive range of fonts, symbols, and design elements, the possibilities are limitless.
Our commitment to excellence drives us to embrace the latest engraving technology, allowing us to achieve unparalleled precision and detail in every engraving. With our cutting-edge technology, we harness the power of laser engraving, ensuring that even the most intricate designs are flawlessly etched onto your cherished pieces. But we are also experts in traditional goldsmithing and engraving techniques: our family crests, for example, are hand engraved, adding depth to your design.
Experience the artistry of bespoke jewellery engraving at Stephen Einhorn, where a sharp eye for design and artistry and craftsmanship converge to create truly extraordinary pieces. Each engraving is executed with the utmost care and precision, ensuring that your jewellery becomes a timeless testament to who you are. There are very few workshops left where this level of craftsmanship is available. Here at Stephen Einhorn we take great pride in offering these skills to you.
Visit our showroom, where our knowledgeable team will guide you through our collections and help you to design something special. Whether it's your favourite line from a poem or a monogram, explore bespoke engraving at Stephen Einhorn and commission something personal to you that celebrates your individuality and preserves your most precious moments.
FAQ's
Answers to commonly asked questions
Read More