Bespoke Commission: Stephen's Skull & Rose Wedding Ring In Silver With Green Tsavorite Eyes
This bespoke Skull wedding ring was custom made in solid silver with green tsavorite eyes. The green eyes really shine… This is a great piece, with the softness of the metal and stones juxtaposed with the scary skull and spiky thorns, fabulous! See more of Stephen's bespoke jewellery commissions here.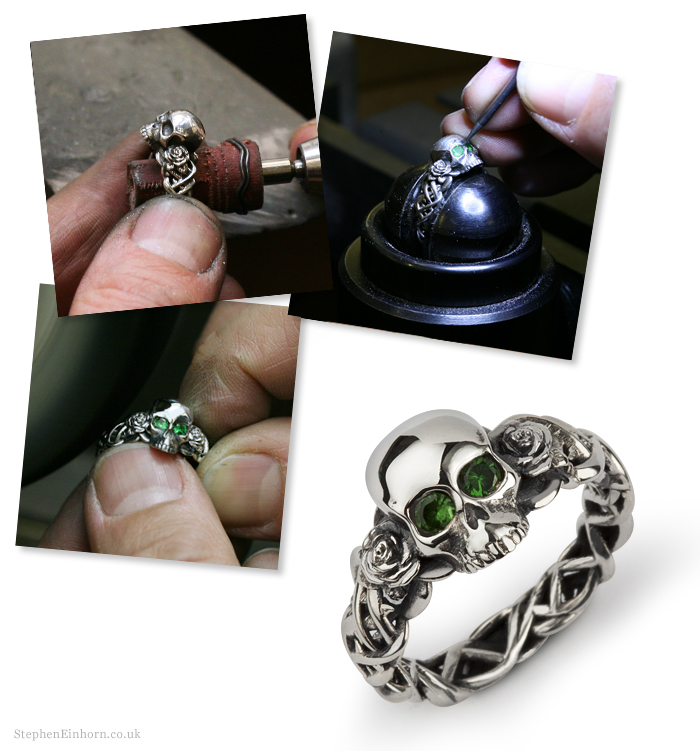 Stephen Einhorn bespoke is exclusively offered to customers who wish to have a one-of-a-kind piece of jewellery created. Stephen's bespoke work has built up an unparalleled reputation and for nearly 20 years he has been personally designing one off jewellery pieces for people seeking original design, high quality craftsmanship and the highest levels of client care.
Stephen's bespoke service provides you with the opportunity to be involved in each step of the creation of a totally unique piece of jewellery that is designed and handmade to your personal requirements.
A Stephen Einhorn bespoke commission encompasses design, artwork, pattern making and other set up costs, as well as craftsmanship and precious materials. If you would like to talk to us about your idea for a bespoke commission, or have any questions regarding the process or costs, please contact our bespoke manager via the telephone number or email address below. If you prefer you can also arrange an appointment to come and speak to our bespoke manager in person at our London jewellery shop.
Call our bespoke manager on: +44 (0) 20 7359 4977
Email our bespoke manager at: bespoke@stepheneinhorn.co.uk.