Our London: Dean Street Townhouse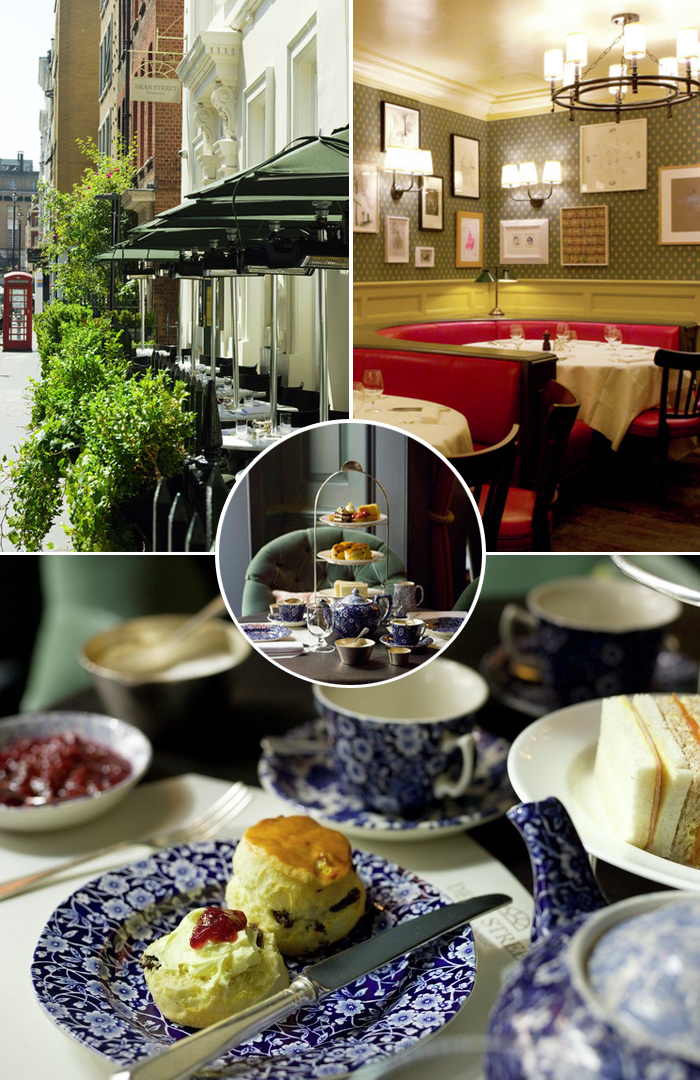 I have walked past this place a million times and never noticed it, so it was a nice surprise to find myself invited inside by the 'Ladies who take Afternoon Tea' for another slap up tea last Saturday.
Dean Street Town House is in….yes, Dean Street Soho. It's very lovely on the inside, all wood and brass and the waiters and waitresses look very french in their long white aprons. It was incredibly busy as you would imagine on a Saturday afternoon. We were flanked by two large hen parties and as my fellow tea sipper said, 'they are making so much noise how dare they have such a good time'. At first it was hard to hear, but that is either because we are all going deaf (probably) or the people next door to us were shrieking (possibly). The noise died down however and then we were able to have a heated discussion about child abuse, so then we were the ones making all the noise, in your face hen parties! Ha!
The tea itself was good. We always think there isn't going to be enough food, but once you start eating it's always hard to finish. The little macaroons with cream were amazing, the scones were good, I was too full for the cakes, and the sandwhiches were gobbled up very quickly. Personally I would prefer more savory treats than sweet. It's pretty good value if you don't have alcohol (I'm afraid that would be intolerable to us!) We all agreed that we would like miniature quiches or something instead of so many cakes.
It was a good tea though and the company is always very amenable and interesting. This tea club is an absolute pleasure and I'm really looking forward to the next one. If you do go to Dean Street Townhouse, beware of the leaking tea pots. That was the one down side as there was boiling water splurging out of them every time we tried to pour a cup of tea. The table cloth ended up being absolutely soaked! It's a lovely place and apparently they do a good cocktail so next time….