Your love story is as unique as you are, and your wedding rings should reflect that individuality. That's why we offer our bespoke wedding ring service: rings meticulously made to encapsulate who you are and your unique taste and style. Join the countless couples who have entrusted us to craft their symbol of commitment, and let us create a ring that tells your story, your way. Have matching rings made or make two very individual rings, whatever you would like, we can do it for you. Visit our showroom or schedule a consultation with our helpful showroom staff to begin your bespoke wedding ring journey. Your love deserves nothing less than the extraordinary.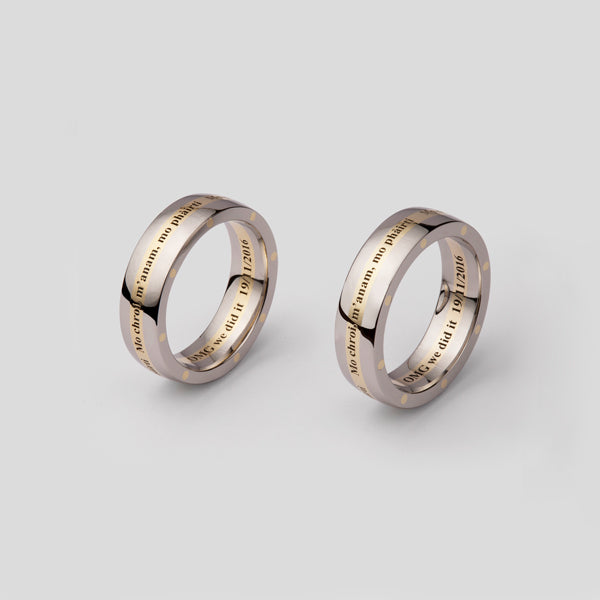 Matching Bespoke Engraved Men's Metal Geo Ellipse Slim Rings
One of these rings is 18 carat yellow gold and palladium. The other ring was made using the customer's own 18 carat yellow gold band placed in an 18 carat yellow gold sleeve with palladium outer rails. Both rings are engraved on the inside and outside.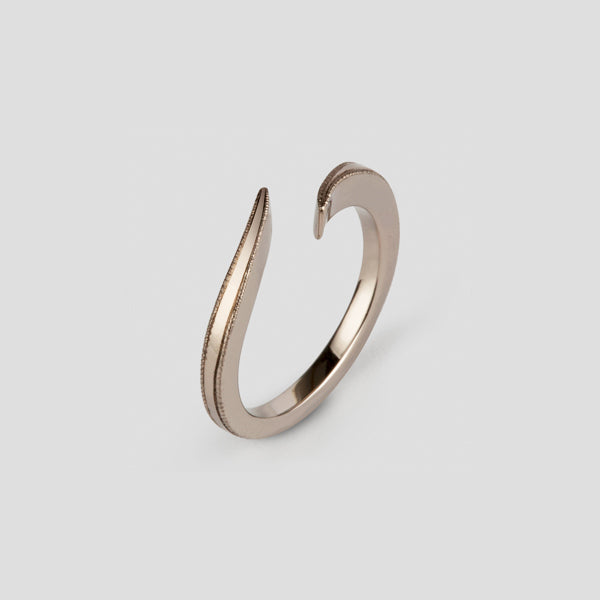 Bespoke Open Style Wedding Ring
Bespoke wedding ring custom made in 18ct white gold in an open style to compliment and fit around the customers engagement ring. The engraving on the edge of the ring is fine traditional millegrain. This ring works very well when worn alone, as well as with the engagement ring.
Bespoke Micro Diamond Wedding Ring
Bespoke Micro wedding ring custom made in platinum with pavé set diamonds. We made this ring to fit snuggly next to our customer's own engagement ring.
Other pieces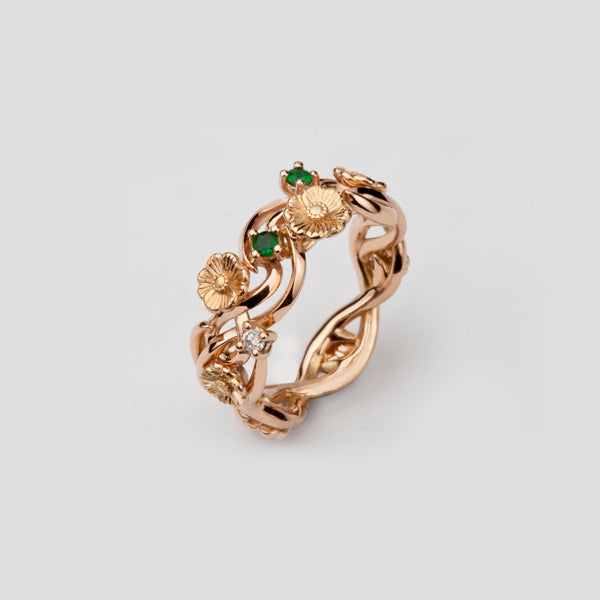 Bespoke Stoned Flower & Vine Engagement Ring
Bespoke flower and vine wedding ring designed with poppies, this customer's favourite flower. Made with brilliant cut diamonds and emeralds, this is really beautiful, very organic, and was inspired by our lovely Vine ring. The metal is 18 carat rose gold.
Bespoke Ring & Cufflinks
Our customer had a very individual wedding ring designed by us with matching cufflinks made in palladium with an 18 carat rose gold inlay. We then made 4 sets of silver cufflinks for the groomsmen with delicate engraving to match the grooms cufflinks. A great idea and jewellery that will mean a great deal and be treasured for years to come by everyone.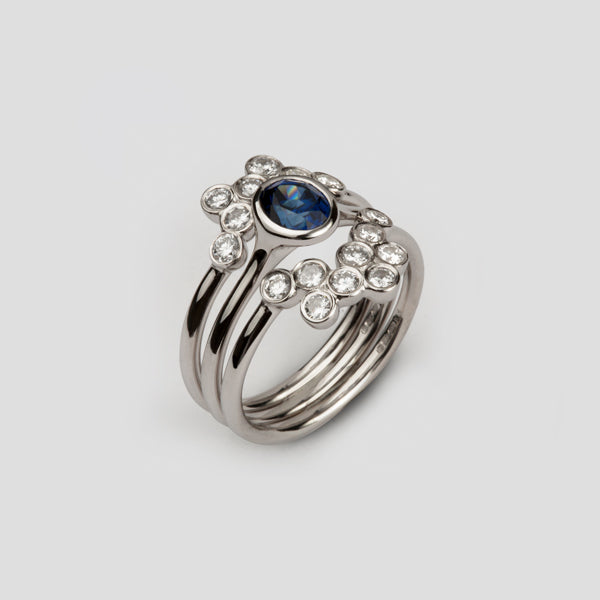 Bespoke Stoned Stackable Rings
Bespoke Stackable wedding and engagement rings custom made in 9ct white gold with diamonds and a blue sapphire stone. The stones were reclaimed from this customer's antique jewellery that they wanted made into a more modern and wearable design. We made three unique rings that can all be worn together or separately.
Bespoke wedding ring process
Your bespoke wedding ring journey begins with a consultation, either in person at our showroom or via a virtual meeting. This is your opportunity to share your ideas, inspirations and desires for your wedding rings. Our expert sales people will listen carefully, ensuring they understand your preferences, style, and taste. Whether you prefer diamonds or rubies, sapphires or onyx; a slim platinum band or a chunky yellow gold design; matching rings or matching accents, they will advise and guide you in order for you to have exactly what you want..
With your input as their guide, our designers will then create a design concept tailored to your vision. This initial design is sometimes perfect, and sometimes serves as a jumping off point for you to give us feedback.. We can then tweak the design for you so that you are completely happy.
Choosing the right materials is crucial to creating a bespoke wedding ring you love. We offer a variety of recycled precious metals, from classic platinum and yellow gold to contemporary options like palladium and white or rose gold. You'll also have the opportunity to personally select gemstones or diamonds if you would like them set into your wedding ring.
Once the design is finalised, our master craftspeople take over, using their skills to handcraft your bespoke wedding rings. Every detail is meticulously executed to ensure the highest quality and craftsmanship.We can also add engraving to your wedding rings, often on the inside, just for you to see. Some couples like to remember their wedding dates, or the dates they first met, first kissed, first went on a parachute jump together. Whatever is important to you, we will help you to mark it.
When your bespoke wedding rings are ready, we'll invite you to our showroom to try them on in person. We'll even give you a glass of English Prosecco or non-alcoholic sparkling wine to make the occasion really special. And if you can't come in, we will send them to you wherever you are in the world  by recorded delivery.
Your bespoke wedding rings are more than just jewellery; they're symbols of your love story and they are rings you wear forever. We take pride in crafting heirloom-quality pieces that will be in your family for generations. We love to be involved in such special occasions and we love to also hear how the day went afterwards! Pop by and show us your pictures…
FAQ's
Answers to commonly asked questions
Read More